SPECIAL FEATURES
Tia Carrere
Margaret Cho
Church of Rhythm
Hiroshima
James Hong
Bruce Lee
Jet Li
Keye Luke
Martial Law
Minoru Miki
Lea Salonga
George Takei
Tamilyn Tomita
Ming-Na Wen
Anna May Wong
Russell Wong
HOME

SECTIONS
Actors
Actresses
Astronauts
Athletics
Authors
Business People
Cartoonists
Community Leaders
Dancers
Directors
Fashion Designers
Film Festivals
Military
Musicians
Newscasters
Politicians
Television Shows








SPECIAL FEATURES
Tia Carrere
Margaret Cho
Church of Rhythm
Hiroshima
James Hong
Bruce Lee
Jet Li
Keye Luke
Martial Law
Minoru Miki
Lea Salonga
George Takei
Tamilyn Tomita
Ming-Na Wen
Anna May Wong
Russell Wong
HOME


SECTIONS

Featured Actors
Featured Actresses
Featured Directors
Featured Musicians
Book Authors
Cartoonists
Fashion Designers
Astronauts
Military Personnel
Newscasters
Politicians
Business People
Community Leaders
Athletics
Television Shows
Film Festivals













ANNA MAY WONG
FIRST ASIAN AMERICAN STAR!

Written by PHILIP LEIBFRIED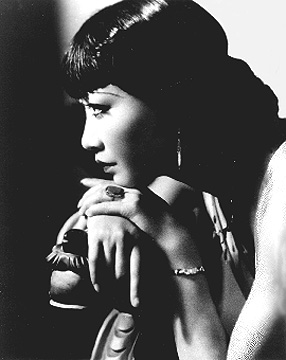 Her complexion was described as "a rose blushing through old ivory;" she was beautiful, tall (5'7"), slender, and Chinese-American. The last fact kept her from attaining the highest echelon among Hollywood's pantheon of stars, but it did not affect her popularity, nor keep her from becoming a household name.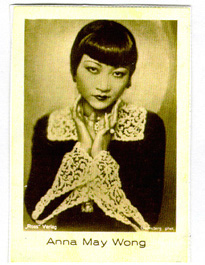 She was Anna May Wong, nee Wong Liu Tsong, a name which translates to "Frosted Yellow Willows," and she was born, appropriately enough, on Flower Street in Los Angeles' Chinatown on 3 January 1905, above her father's laundry.
A precocious child, early on she became fascinated with the "flickers," and would spend much of her spare time in nickelodeons watching the shadowy images which flashed on the screen, larger than life, in stirring melodramas or rambunctious comedies. Besides, there was plenty of filming going on in the streets of Los Angeles - the movie industry had created a boom town and Anna May loved to hang around the sets on location. On the screen, her favorite male star was Crane Wilbur, Pearl White's leading man in The Perils of Pauline (Pathe, 1914). (Interestingly, she would co-star with Wilbur on Broadway in 1930-31.) Her two favorite female stars were cowgirl/stuntwomen Pearl White and Ruth Roland.
Her tradition-bound father, Wong Sam Sing, strongly disapproved of Liu Tsong's preoccupation with the movies, which kept her from her studies. It eventually became a losing battle when the attractive youngster landed a bit part in the Nazimova film The Red Lantern, (Nazimova Productions, for Metro Pictures, 1919).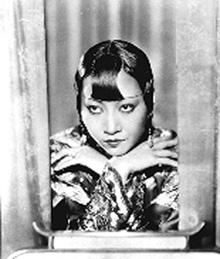 HER SILENT FILMS STRUGGLE
The laundryman's daughter chose two western names to go with her family name, and "Anna May" Wong was born. Although it would be two years before she received on-screen billing for her work, she appeared in the films of several top names of the day, including Sessue Hayakawa, Colleen Moore, and Priscilla Dean. Her father was still a stern presence, though; he insisted that she be accompanied by an adult to the studio, and if she was to be the only Asian in the cast, he would lock her in her room.
Finally, in September of 1921, with the release of Bits of Life (Marshall Neilan Productions,for Associated First National Pictures), the first anthology film, Anna May Wong's name first appeared before the public. In the episode entitled Hop, the adolescent actress played the wife of Lon Chaney's character, who bore a strong resemblance to her own father. It was directed by the talented Marshall Neilan, who had recognized the special qualities of this young hopeful when he had cast her previously in a bit role for Dinty (Associated First National Pictures, 1920). Unfortunately, Bits of Life is a lost film and Dinty only survives in three of seven reels.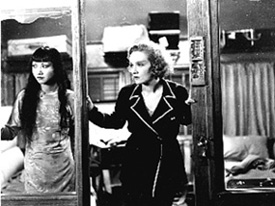 Anna May's next credit was another supporting role, in the John Gilbert vehicle, Shame (Fox Film Corp., 1921). The budding beauty got her first big break the following year, when she starred in The Toll of the Sea (Technicolor Motion Picture Company, for Metro Pictures, 1922), the first true Technicolor feature to be made in Hollywood.
She gave a remarkably mature and restrained performance in this variation on Madame Butterfly. Receiving a good deal of attention, the film made money and should have started Anna May on a starring career, but instead she followed it with supporting roles in a lurid melodrama directed by Tod Browning, Drifting (1923) and the western Thundering Dawn (1923), both for Universal.
One result of her work in The Toll of the Sea was her being chosen by Douglas Fairbanks for the part of the Mongol Slave in his lavish fantasy, The Thief of Baghdad (United Artists, 1924). While only a supporting role, it was an important one, and garnered more laurels for Anna May, but still no offers for leads.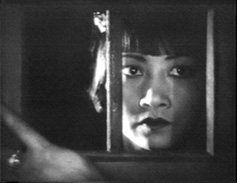 The still teen-aged actress never lacked for work; despite appearing only in supporting roles, she appeared in everything from a serial, The Fortieth Door (Pathe, 1924) to two-reel comedies, The Honorable Mr. Buggs (Pathe/Hal Roach, 1927) in the next few years. Although she also appeared in Paramount's sparkling version of J.M. Barrie's perennially popular Peter Pan (Famous Players-Lasky, 1924) as "Tiger Lily, Chieftainess of the Indians," the part called for only a few scenes.
The year 1925 saw Anna May as a dancer in a play in a Technicolor sequence near the beginning of His Supreme Moment (Samuel Goldwyn Productions, for First National), a Ronald Colman vehicle produced by Samuel Goldwyn, and as a vamp in the Raymond Griffith comedy, Forty Winks (Famous Players-Lasky/Paramount).
The following year brought more undistinguished roles, but included a film with a checkered and mysterious history. The Silk Bouquet was produced by an outfit called Fairmont Productions and released in June. In January of 1927, the title was changed to The Dragon Horse and was not heard of again. The director and most of the cast are unknown. From the two titles, it can be conjectured that this is an all-Chinese production, made specifically for Chinese audiences, much as the "race movies" made for all-black audiences. Accurate records of race films are scarce to none.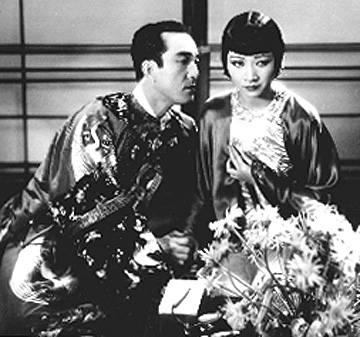 In 1927 Anna May ran the gamut of studios, from Tiffany to M-G-M, as she added to her list of credits. Her best films that year were Mr. Wu for M-G-M, starring Lon Chaney and Rene Adoree, who were made-up to look Asian, and Warner Bros.' Old San Francisco, a melodrama which also featured Dolores Costello, Warner Oland, and the San Francisco earthquake of 1906.
It was at the latter studio the next year that the ambitious Asian lady became fed up with Hollywood. For years, heavily made-up Caucasian actors had been playing Asians on screen, but recently, a young redhead from Montana seemed to be cornering the market in those roles. So when Anna May was cast in support of Myrna Loy in The Crimson City (Warner Bros., 1928), it was the last straw for the twenty-three-year-old Chinese beauty. Like other talented non-whites before her, she made the move to more tolerant Europe.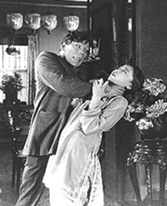 To read what happens to her when she moved to Europe and eventually returned back to the U.S., please click HERE.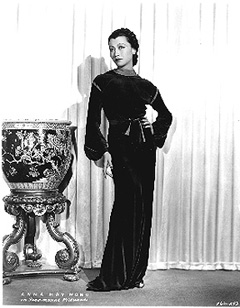 Anna's biggest disappointment professionally occurred during this period. It was losing a part in MGM's great film The Good Earth. She tested extensively for the roles of Paul Muni's wife, O Lan, and that of his concubine. The parts were eventually played by Luise Rainer and Tillie Losch respectively. Rainer won the Academy Award for 1937 for her terrific performance as O Lan.
In 1960 producer Ross Hunter cast her in Flower Drum Song. However, Anna became ill in December of 1960 and was replaced by Juanita Hall. For the next six weeks, Anna was under constant doctor's care, receiving liver injections each week from her physician.
In 1943 it was proposed that she star in a biography of Madame Chiang Kai- Shek, but no film materialized.
On February 3, 1961, her brother Richard summoned the doctor to their home. The doctor arrived at 3 PM and pronounced Anna dead from a massive heart attack. It was revealed that since 1950 she had been suffering from Laennac's cirrhosis. The disease of the liver is caused by an over indulgence in alcohol.
As a final note: Anna May Wong is "A Legacy Yet To Be Rediscovered"
Anna May Wong's contribution to show business is a unique one; she was the first Asian female to become a star, achieving that stardom at a time when bias against her race was crushing. With determination and talent allied to her exotic beauty, she remained the only Asian female star throughout her forty-year career, never fully overcoming all prejudices in maintaining that position. Perhaps the rediscovery of her art will elevate her star to the pantheon of great performers and serve as a guiding light to Asian performers who still struggle to find their rightful place.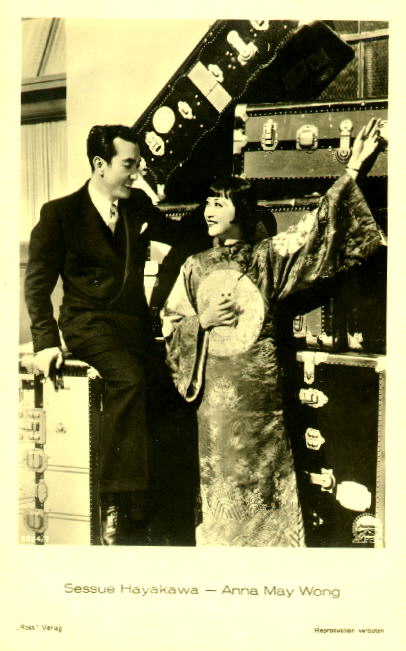 Her official website can be found HERE, Robert Payne's illuminating article (click HERE & go to the "Arts and Entertainment" section) and a review of Toll of the Sea provides invaluable perspectives on her career.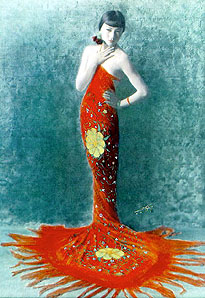 A straight-ahead biography on her can be viewed by clicking HERE. A listing of her fifty-four (54) films are listed HERE. She also starred on Broadway in "On the Spot" and on the London stage in " A Circle of Chalk."
If you want to hear how Anna May Wong felt about her career, background and her life in general, just click HERE. You will be amazed how life hasn't CHANGED since the time that she was acting.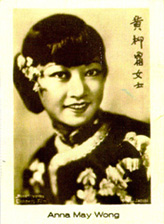 There is the same stigma and lack of roles available to Asian / Asian Pacfic American actors (male and female, just note what Sessue Hayakawa had to do during the same period of time)!

Just note television's lack of diversity that still exists in the 21st century, despite the efforts of the Asian Pacific American Media Coalition, and the prevailing Asian stereotypes that exists in films such as Romeo Must Die!

Anna May Wong's life and career is something that is important for all who value greatly the Asian / Asian Pacific American communities' many artists and what we can all contribute!

Click HERE to read abuut an upcoming film on Anna May Wong.

FILMOGRAPHY AND DESCRIPTION The Red Lantern. Metro 1919. Directed by Albert Capellani. With Alla Nazimova, Margaret McWade, Virginia Ross, Frank Currier, Winter Hall, Amy Veness, Darrell Foss, Noah Beery, Sr., Harry Mann, Yukio Aoyamo, Edward J. Connelly, Anna May Wong. Anna May Wong has a "bit."

Dinty. Assoc. First National 1920. Directed by Marshall Neilan and John McDermott. With Wesley Barry, Colleen Moore, Tom Gallery, J. Barney Sherry, Marjorie Daw, Noah Beery, Sr., Walter Chung, Pat O'Malley, Kate Price, Tom Wilson, Aaron Mitchell, Newton Hall, Yung Hipp, Hal Wilson, Anna May Wong. Anna May Wong as "Chinatown resident."

The First Born. Robertson Cole 1921. Directed by Colin Campbell. With Sessue Hayakawa, Helen Jerome Eddy, Sonny Boy Warde, Goro Kino, Marie Pavis, Clarence Wilson, Frank M. Seki, Anna May Wong.

PARTIAL LISTINGS OF HER FILMS
Just Joe (1960) ... Peach Blossom
Portrait in Black (1960) ... Tani
Savage Innocents, The (1960) ... Hiko
Impact (1949) ... Su Lin
Lady From Chungking (1943) ... Kwan Mei
Bombs Over Burma (1942) ... Lin Ying
Ellery Queen's Penthouse Mystery (1941) ... Lois Ling
Island of Lost Men (1939) ... Kim Ling
King of Chinatown (1939) ... Dr. Mary Ling
Dangerous to Know (1938) ... Mme. Lan Ying
When Were You Born? (1938) ... Mary Lee Ling
Daughter of Shanghai (1937) ... Lan Ying Lin
Java Head (1935) ... Taou Yen
Limehouse Blues (1934) ... Tu Tuan
Chu Chin Chow (1934) ... Zahrat
Study in Scarlet, A (1933) ... Mrs. Pyke
Tiger Bay (1933) ... Lui Chang
Piccadilly (1932) ... Shosho
Shanghai Express (1932) ... Hui Fei
Daughter of the Dragon (1931) ... Ling Moy
Flame of Love, The (1930) ... Hai Tang
Devil Dancer, The (1927) ... Sada
Thief of Bagdad, The (1924) ... The Mongol Slave

Shame. Fox 1921. Directed by Emmett J. Flynn. With John Gilbert, Mickey Moore, George Siegmann, William V. Mong, George Nicholas, Anna May Wong, Rosemary Theby, Doris Pawn, Red Kirby. Anna May Wong as the Lotus Blossom.

Bits of Life. Assoc. First National 1921. Directed by Marshall Neilan. With Wesley Barry, Rockliffe Fellowes, Lon Chaney, Sr., Noah Beery, Sr., Anna May Wong, John Bowers, Teddy Sampson, Dorothy Mackaill, Edythe Chapman, Frederick Burton, James Bradbury, Jr., Tammany Young, Harriet Hammond, James Neill, Scott Welsh. Anna May Wong as Toy Sing, wife to Chaney character.

The Toll of the Sea. Metro 1922. Directed by Chester M. Franklin. With Anna May Wong, Kenneth Harlan, Beatrice Bentley, Baby Marion, Etta Lee, Ming Young. Anna May Wong as Lotus Flower, a suicide. Clearly inspired by Madame Butterfly, THE TOLL OF THE SEA provided Wong with her first starring role. Lotus Flower, a beautiful Chinese maiden, rescues a young American when he washes ashore. The two begin a doomed affair that results in the birth of their son. For Wong, Lotus Flower was the first of many tragic heroines she would eventually play—Asian women who would pay the ultimate price for their love affairs with white men. Wong's luminous beauty, expressive face and masterful acting abilities were already evident here, at the young age of 17. This was the first feature film produced in the two-color Technicolor process.

Drifting. Universal 1923. Directed by Tod Browning. With Priscilla Dean, Matt Moore, Wallace Beery, J. Farrell MacDonald, Rose Dione, Edna Tichenor, Anna May Wong, William V. Mong, Bruce Guerin, Marie De Albert, William Moran, Frank Lanning. Anna May Wong as Rose Li, daughter of sinister doctor played by Mong.

Thundering Dawn. Universal 1923. Directed by Harry Garson. With Winter Hall, J. Warren Kerrigan, Anna Q. Nilsson, Tom Santschi, Charles Clary, Georgia Woodthorpe, Richard Kean, Edward Burns, Winifred Bryson, Anna May Wong. Anna May Wong as "Honky Tonk Girl."

Lillies of the Field. Assoc. First National 1924. Directed by John Francis Dillon. With Corinne Griffith, Conway Tearle, Alma Bennett, Myrtle Stedman, Crauford Kent, Sylvia Breamer, Charlie Murray, Phyllis Haver, Cissy Fitzgerald, Edith Ransom, Charles Gerrard, Dorothy Brock, Mattie Peters, Anna May Wong.

The Thief of Bagdad. United Artists 1924. Directed by Raoul Walsh. With Douglas Fairbanks, Julane Johnston, Snitz Edwards, Charles Belcher, Anna May Wong, Winter Blossom, Etta Lee, Brandon Hurst, Tote Du Crow, Sojin, Noble Johnson, Sadakichi Hartmann, K. Nambu, Mathilde Comont, Charles Stevens, Sam Baker, Jess Weldon, Scott Mattraw, Charles Sylvester. Anna May Wong as the Mongol slave.
Anna May Wong in "Picadilly"
The Fortieth Door. Pathé serial 1924. Directed by George B. Seitz. With Allene Ray, Bruce Gordon, David Dunbar, Anna May Wong, Frances Mann, Frank Lackteen, Lillian Gale, Bernard Seigel, Scott McGee, Chief Whitehorse, Omar Whitehead, Eli Stanton. Anna May Wong as Zira.
The Alaskan. Paramount 1924. Directed by Herbert Brenon. With Thomas Meighan, Estelle Taylor, John Sainpolis, Frank Campeau, Anna May Wong, Alphonse Ethier, Maurice Cannon, Charles Ogle. Anna May Wong as Keok, an Eskimo.
Peter Pan. Paramount 1924. Directed by Herbert Brenon. With Betty Bronson, Cyril Chadwick, Ernest Torrence, Virginia Brown Faire, Anna May Wong, Esther Ralston, George Ali, Mary Brian, Philippe De Lacey, Jack Murphy. Anna May Wong as Tiger Lily.
Forty Winks. Paramount 1925. Directed by Frank Urson. With Viola Dana, Raymond Griffith, Theodore Roberts, Cyril Chadwick, Anna May Wong, William Boyd. Anna May Wong as Annabelle Wu, an adventuress.
Fifth Avenue. PRC 1926. Directed by Robert G. Vignola. With Marguerite De La Motte, Allan Forrest, Louise Dresser, William V. Mong, Crauford Kent, Lucille Lee Stewart, Anna May Wong, Lillian Langdon, Josephine Norman, Sally Long, Flora Finch. Anna May Wong as Nan Lo, a prostitute.
The Silk Bouquet/The Dragon Horse. Hi Mark Productions. 1926 with James Leong, Anna May Wong.
A Trip to Chinatown. Fox 1926. Directed by Robert P. Kerr. With Margaret Livingston, Earle Foxe, J. Farrell MacDonald, Anna May Wong, Harry Woods, Marie Astaire, Gladys McConnell, Charles Farrell, Hazel Howell, Wilson Benge, George Kuwa. Anna May Wong as Ohtai.
Anna May Wong - Visual Images of Her Career
The Desert's Toll. MGM 1926. Directed by Clifford Smith. With Kathleen Key, Chief Big Tree, Anna May Wong, Francis McDonald, Tom Santschi, Lew Meehan, Guinn Williams. Anna May Wong as Oneta.

The Chinese Parrot. Universal. 1927. Directed by Paul Leni. With Marian Nixon, Florence Turner, Hobart Bosworth, Edward Burns, Albert Conti, Sojin, Fred Esmelton, Edgar Kennedy, George Kuwa, Slim Summerville, Dan Mason, Anna May Wong, Etta Lee, Jack Trent. Anna May Wong as "Nautch dancer."

Driven from Home. Chadwick 1927. Directed by James Young. With Ray Hallor, Virginia Lee Corbin, Pauline Garon, Anna May Wong, Sojin, Melbourne MacDowell, Margaret Seddon, Sheldon Lewis, Virginia Pearson, Eric Mayne, Alfred Fisher.

Mr. Wu. MGM 1927. Directed by William Nigh. With Lon Chaney, Sr., Louise Dresser, Renee Adoree, Holmes Herbert, Ralph Forbes, Gertrude Olmstead, Mrs. Wong Wing, Anna May Wong, Sonny Loy, Claude King. Anna May Wong as Loo Song.

Old San Francisco. Warner Bros. 1927. Directed by Alan Crosland. With Dolores Costello, Warner Oland, Charles Emmett Mack, Josef Swickard, John Miljan, Anders Randolf, Sojin, Angelo Rossitto, Anna May Wong. Anna May Wong as "girl."

Why Girls Love Sailors. Pathé short 1927. Directed by Fred L. Guiol. With Stan Laurel, Oliver Hardy, Bobby Dunn, Anna May Wong, Sojin, Eric Mayne. Anna May Wong as Delamar.

The Devil Dancer. United Artists 1927. Directed by Fred Niblo. With Gilda Gray, Clive Brook, Anna May Wong, Serge Temoff, Michael Vavitch, Sojin, Uta Mita, Ann Schaeffer, Albert Conti, Clarissa Selwynne, James Leong, Martha Mattox, William H. Tooker, Claire Du Brey, Nora Cecil, Barbara Tennant, Kalla Pasha. Anna May Wong as Sada.

Streets of Shanghai. Tiffany 1927. Directed by Louis Gasnier. With Pauline Starke, Kenneth Harlan, Eddie Gribbon, Margaret Livingston, Jason Robards, Sr., Mathilde Comont, Anna May Wong, Sojin, Tetsu Komai, Toshyie Ichioka, Media Ichioka. Anna May Wong as Su Quan.

Pavement Butterfly (aka City Butterfly). Grossstadt-Schmetterling/Germany 1928. Directed by Richard Eichberg. Screenwriter: Hans Kyser. Based on the novel by Adolf Lantz. Cinematographers: Heinrich Gärtner, Otto Baecker. With: Anna May Wong, Louis Lerch, Alexander Grananch, E. F. Bostwick, 35mm, silent with English intertitles, 90 min. (24 fps). Love, lust, greed and art don't mix well in this silent melodrama that moves from the circus to bohemian artists' studios to the French Riviera. In her second film with Richard Eichberg, Wong plays Mah, the star performer in a circus acrobatic act. When fellow performer Koko murders Mah's partner, she is blamed for his death and forced to flee. Mah finds work modeling for a handsome artist and soon falls in love with him. But the lascivious Koko follows her, worsening her predicament as she tries to clear her name. Though she was praised for her part, some critics claimed that Wong, shown stylishly dressed in contemporary fashions, wasn't portrayed as "exotic" enough.

In the fall of 1997, Bowdoin College in Maine presented the world premiere of "China Doll," a play by Elizabeth Wong (no relation to the actress). "China Doll" explores the life and career of Anna May Wong, especially the limitations imposed on her as an actress of Chinese decent.

The play combines real events and people from Anna May's life with other imagined scenes and characters, creating what the playwright describes as "an exploration of the mysteries of love - the love of work, the love of artistic pursuit, the love of men, the love of movies."
For more info on Elizabeth Wong, click HERE

HOLLYWOOD PORTRAITS


Music from John Barry's great soundtrack; and, in order of appearance: ANNA MAY WONG; Robert Montgomery; Kay Francis; Greta Garbo; Joan Crawford & Clark Gable; Jean Harlow; Robert Montgomery; Greta Garbo; Louise Brooks; Charlie Chaplin; Joan Crawford & Douglas Fairbanks, Jr.; Frances Farmer; Myrna Loy & Ronald Colman; Barbara Stanwyck; Greta Garbo; Dolores del Rio; Kay Francis & Herbert Marshall; Norma Shearer; Miriam Hopkins; Marlene Dietrich; Bing Crosby; Carole Lombard; William Powell; Norma Shearer; Greta Garbo; Marlene Dietrich; Loretta Young and Tyrone Power; Veronica Lake; Loretta Young; Gary Cooper; Vivien Leigh; Lauren Bacall; Rita Hayworth; Jean Harlow; Vivien Leigh; Lana Turner; Humphrey Bogart; Greta Garbo; John Gilbert; Greta Garbo & John Barrymore; Joel McCrea; Vivien Leigh; Clark Gable; Greta Garbo; Maureen O'Sullivan & Johnny Weismuller; Kay Francis; Ann Harding & Leslie Howard; Sally Blaine & Jeanette MacDonald; Jean Harlow & Clark Gable; Jean Harlow; Joan Crawford; Marlene Dietrich & Gary Cooper; Claudette Colbert; Bette Davis; Lauren Bacall; Lucille Ball; Adolphe Menjou; Myrna Loy; Gilbert Roland; Carole Lombard; Jean Harlow; Joan Crawford & Dana Andrews; Errol Flynn; Tyrone Power; Greta Garbo; Joan Crawford & Clark Gable; John Garfield; Shelly Winters & John Garfield; Carole Lombard; Marlene Dietrich; Bette Davis; Hedy Lamarr & William Powell; Louise Brooks; Vivien Leigh & Leslie Howard; Ann Harding; Charles Boyer; Gene Tierney; Ronald Colman; Ronald Colman; Joan Crawford; Leslie Howard; Hedy Lamarr & Robert Taylor; Mary Astor; Lillian Gish; Bette Davis & Leslie Howard; Gene Tierney; Cary Grant; Barbara Stanwyck

Across to Singapore. MGM 1928. Directed by William Nigh. With Ramon Novarro, Joan Crawford, Ernest Torrence, Frank Currier, Dan Wolheim, Duke Martine, Edward Connelly, James Mason, Anna May Wong.

The Crimson City. Warner Bros. 1928. Directed by Archie Mayo. With Myrna Loy, John Miljan, Leila Hyams, Matthew Betz, Anna May Wong, Anders Randolf, Richard Tucker, Sojin. Anna May Wong as Su.

Chinatown Charlie. First National 1928. Directed by Charles Hines. With Johnny Hines, Louise Lorraine, Harry Gribbon, Fred Kohler, Sr., Scooter Lowry, Sojin, Anna May Wong, George Kuwa, John Bradette. Anna May Wong as Mandarin's (played by Sojin) sweetheart.

Song. German 1928. Directed by Richard Eichberg. Producer: R. Eichberg. Scenarists: Helen Gosewish, Adolf Lantz. Based on the novel Dirty Money by Karl Vollmöller. Cinematographers: Heinrich Gärtner, Bruno Mondi. Editor: Alfred Booth. With Anna May Wong, Heinrich George, Hans Adalbert, Paul Horbiger. In the late 1920s, Wong sailed for Europe, hoping to escape the stereotyped roles being offered her in Hollywood. In her first film with German director Richard Eichberg, Wong plays Song, a down-on-her-luck Malayan dancer who becomes involved with a mysterious knife-thrower after he saves her from two thugs. They form a successful act on their own, and Song soon falls for her partner until the return of his former lover sets off a fatal series of events. Wong enchanted film audiences across Europe with her masterfully subtle performance and electrifying screen presence. Anna May Wong played the role of a Malayan who marries a brutal painter played by George.

The City Butterfly. German 1929. Directed by Richard Eichberg. With Anna May Wong, Alexander Granach, Tilla Garden. Anna May Wong as a "sideshow dancer."

Piccadilly. British International 1929. Directed by E. A. Dupont. Producer: E.A. Dupont. Scenarist: Arnold Bennett. Cinematographer: Werner Brandes. Editor: J.W. McConaughty. With Gilda Gray, Anna May Wong, Jameson Thomas, Charles Laughton, Cyril Ritchard, King Ho-Chang, Hannah Jones, Ellen Pollock, Harry Terry, Gordon Begg, Charles Paton, Debroy Somers and his Band. In 1929, after several starring roles in Germany, the young Anna May Wong made her way to London to star in her final silent film and her only feature with German-born director E.A. Dupont. In this melodrama of jealousy and murder, Wong plays a scullery maid named Shosho who, while dancing in the kitchen, attracts the attention of her boss and becomes the star attraction at a trendy London nightclub. Dupont lavished Wong with close-ups and glorious costumes, allowing her to easily upstage co-star Gilda Gray. The film also features one of the very first onscreen performances by Charles Laughton, playing a boisterous nightclub patron. Anna May Wong played the role of Shosho, mistress to Thomas character.

Elstree Calling. British International 1930. Directed by Adrian Brunel, Alfred Hitchcock, Andre Charlot, Jack Hulbert, and Paul Murray. With Will Fyffe, Lily Morris, Tommy Handley, Anna May Wong, Teddy Brown, Bobbie Comber, Hannah Jones, Cicely Courtneidge, Jack Hulbert, Helen Burnell, Donald Calthrop, James Thomas, Ivor MacLaren, John Longden, Berkoff Dancers, Charlot Girls, Three Eddies, the Adelphi girls, Kasbek Singers. A revue with Anna May Wong as herself.

The Flame of Love. British International 1930. Directed by Richard Eichberg. Producer: R. Eichberg. Screenwriters: Monckton Hoffee, Ludwig Wolff. Cinematographers: Heinrich Gärtner, Bruno Mondi. Editor: Emile de Ruelle. With Anna May Wong, John Longden, George Schnell, Mona Goya, Percy Standing, Fred Schwartz, Lay-On. Anna May Wong as Hai-tang, a dancer. Wong made her speaking debut in this melodrama set in pre-Revolutionary Russia. Wong plays Hai-Tang, a young Chinese dancer who falls for a Russian military officer, but their affair is complicated when the officer's superior sets his sights on her. The chance to see and hear Wong in a talkie made the film a great attraction to contemporary audiences. By 1930 Wong had toned down the American accent that had previously moved one of her producers to comment, "But oh! that California accent! As thick as the smog that now covers their cities." Wong also mastered enough German and French to play the role of Hai-Tang in two foreign-language versions shot at the same time, with different male leads.

Hay Tang. German 1930. Directed by Richard Eichberg, With Anna May Wong, Francis Lederer, Hermann Blass. Anna May Wong as Hay Tang, a dancer. The German version of The Flame of Love.

L'Amour Maitre Des Choses. French 1930. Directed by Richard Eichberg. With Anna May Wong, Robert Ancelin, Marcel Vibert. Anna May Wong as Hai-tang. The French version of The Flame of Love.

Daughter of the Dragon. Paramount 1931. Directed by Lloyd Corrigan. Screenwriters: L. Corrigan, Monte M. Katterjohn. Based on the novel Daughter of Fu Manchu by Sax Rohmer. Cinematographer: Victor Milner. With Anna May Wong, Warner Oland, Sessue Hayakawa, Bramwell Fletcher, Frances Dade, Holmes Herbert, Lawrence Grant, Harold Minjir, Nicholas Soussanin, E. Alyn Warren, Harry Lee, Olaf Hytten, Nella Walker, Oie Chan, Tetsu Komai, George Kuwa. Orientalist archvillain Fu Manchu resurfaces in London, with an undying lust for vengeance directed at the Petrie family, whom he mistakenly blames for the death of his wife and son. Not only is Sir John Petrie shot in his own home, but his son Ronald is at risk of succumbing to the seductive charms of the villain's equally malevolent daughter Ling Moy (Wong). "Yellow Peril" tropes abound in this fantasy of Eastern threat: wafting incense, ominous shadows, knife clutched under ample Chinese sleeve. The film is racist, but ironically, the film is best remembered today for its Asian actors, Wong and Sessue Hayakawa, who bring grace, subtlety and gravity to their stereotyped roles. Anna May Wong played the role of Ling Moy, daughter of Fu Manchu, played by Oland.

This 5'7 beauty loved to study and could speak in an English accent, as well as being fluent in German and French with more than a passing knowledge of other tongues including Italian and Yiddish.

For exercise she rode horses, played golf, and tennis. She liked to cook and regaled her guests with succulent Chinese dishes at frequent dinner parties.

She preferred casual clothes, wearing slacks and sweaters at home, but cultivated an oriental motif in her very smart formal wardrobe.

She studied singing with Welsh tenor Parry Jones before she participated in the film Limehouse Blues as George Raft's mistress.

Anna loved to dance to contemporary music. Anna was quoted as saying, "I think I got my first chance because they thought I was peculiar. But, now I like to believe that the public are fond of me because they think I'm nice."

Shanghai Express. Paramount 1932. Directed by Josef Von Sternberg. With Marlene Dietrich, Clive Brook, Anna May Wong, Warner Oland, Eugene Pallette, Lawrence Grant, Louis Closser Hale, Gustav Von Seyffertitz, Emile Chautard, Madame Sojin, Willie Fung, James Leong, Forrester Harvey, Leonard Carey, Claude King, Neshida Minoru, Miki Morita. The combined star power of Marlene Dietrich and Anna May Wong propels this melodrama in which two former lovers are reunited on a train during the Chinese civil war. Von Sternberg was arguably one of cinema's greatest directors of women, and in SHANGHAI EXPRESS he had two illustrious actresses to work with: Dietrich, as the notorious "coaster," Shanghai Lily, and Wong as her traveling companion, the reformed prostitute Hui Fei. Wong's outstanding performance was so powerful yet so restrained, that Dietrich felt she had been upstaged. The steam and smoke, the stylized performances, the minimalist but crackling dialogue and the stunning cinematography of Lee Garmes all make for a most enjoyable ride. Anna May Wong played the role of Hui Fei, a lady of dubious morals.

A Study in Scarlet. World Wide 1933. Directed by Edwin L. Marin. With Reginald Owen, Anna May Wong, June Clyde, Alan Dinehart, John Warburton, Warburton Gamble, Alan Mowbray, Doris Lloyd, Billy Bevan, Leila Bennnett, J. M. Kerrigan, Wyndham Standing, Halliwell Hobbes, Tempe Pigott, Cecil Reynolds, Tetsu Komai. Anna May Wong as Mrs. Pyke, a crook.

Tiger Bay. Associated British 1933. Directed by J. Elder Sills. With Anna May Wong, Henry Victor, Rene Ray, Lawrence Grossmith, Victor Garland, Ben Soutten, Margaret Yarde, Benn Williams, Wally Patch, Ernest Jay, Brian Buchel. This is one of three British productions starring Wong released in 1934, she plays the beautiful and heroic Liu Chang, dancer and proprietor of a rowdy cafe who fights to save a young woman from a gang of thuggish sailors. British censors insisted that the setting be relocated from London to the fictional South American town of "Tiger Bay," a port city filled with gangsters, petty thieves, prostitutes and "all the riff-raff of the seven seas." (Note: Legendary British director David Lean earned one of his screen credits as an editor on this film.

Chu Chin Chow. Gaumont 1934. Directed by Walter Forde. With George Robey, Fritz Kortner, Anna May Wong, John Garrick, Pearl Argyle, Malcolm MacEachern, Dennis Hoey, Francis L. Sullivan, Sydney Fairbrother, Lawrence Hanray, Frank Cochrane, Thelma Tuson, Myoshi Takase. Anna May Wong as Zahret, a slave girl. Producer: Michael Balcon. Screenwriters: Sidney Gilliat, L. DuGarde Peach, Edward Knoblock. Based on the musical by Oscar Asche and Frederic Norton. Cinematographer: Mutz Greenbaum. Editor: Derek N. Twist. With: Anna May Wong, George Robey, Fritz Kortner, John Garrick. 35mm, 93 min. With production values luxuriant enough to rival those in Hollywood, this British musical presents orientalist fantasy at its most glamorous and grotesque. Inspired by The Arabian Nights, the plot revolves around the bandit Abu Hassan, who plans to impersonate Asian merchant Chu Chin Chow in order to sack Baghdad. Although she doesn't have a lot of screen time, Wong was top-billed as Hassan's lover, Zahrat—testimony to her box-office appeal. Though her singing was dubbed, Wong's talent shone in her skillful acting and sensuous dance sequences, no doubt aided by her scintillating costumes.

Java Head. Associated British 1934. Directed by J. Walter Ruben. With Anna May Wong, Elizabeth Allan, John Loder, Edmund Gwenn, Ralph Richardson, Herbert Lomas, George Curzon, Roy Emerton, John Marriner, Grey Blake, Amy Brandon-Thomas, Ben Williams. In her final British star vehicle, Wong plays a Chinese princess who follows her new husband Gerrit, a young Englishman from a wealthy shipping family, back to 19th century Bristol. The husband's conservative family is scandalized by the arrival of his bride, whose sensational clothing and make-up stands in stark contrast to the restrained Victorian setting. They refuse to accept the stranger, preferring that Gerrit rekindle his courtship of Nettie, a local girl. Cultural differences come between the young couple when the husband rejects his wife's religious faith and confesses his love for Nettie. This film is notable for its frank depiction and implicit critique of the fetishizing of Asian women.

Limehouse Blues. Paramount 1934. Directed by Alexander Hall. With George Raft, Jean Parker, Anna May Wong, Kent Taylor, Montagu Love, Billy Bevan, Robert Loraine, John Rogers, E. Alyn Warren, Wyndham Standing, Louis Vincenot, Keith Hitchcock, Forrester Harvey, Desmond Roberts, Colin Kenny, Robert Adair, Eric Blore, Tempe Pigott, Eily Malyon, Elsie Prescott, Colin Tapley, Rita Carlisle, Joe May, Otto Yamaoka, Dora Mayfield, Angelo Bianchi, Ann Sheridan, Joe Glick. Anna May Wong as Tu Tuan, the Raft character's mistress.

Daughter of Shanghai. Paramount 1937. Directed by Robert Florey. Producer: Edward T. Lowe. Screenwriters: Gladys Unger, Garnett Weston. Based on a story by G. Weston. Cinematographer: Charles Schoenbaum. Editor: Ellsworth Hoagland. With Anna May Wong, Charles Bickford, Buster Crabbe, Cecil Cunningham, J. Carrol Naish, Anthony Quinn, Philip Ahn, Evelyn Brent, John Patterson, Guy Bates Post, Frank Sully, Fred Kohler, Sr., Virginia Dabney, Ching Way Lee, Maurice Liu, Mrs. Wong Wing, Gwen Kenyon, Paul Fix, Ernest Whitman, Layne Tom, Jr., Gino Corrado, Bruce Wong, Paulita Arvizu, Charles Wilson, Mae Busch, Michael Wu, Bill Powell, Pierre Watkin, Carmen La Roux, Tina Menard, Jimmie Dundee, Carmen Bailey, Alex Woloshin, Agostino Borgato, Billy Jones, Harry Strang, Alma Ross, Joyce Mathews, Helaine Moler, Lee Shumway, Blanca Vischer, Norah Gale, Paula de Cardo, Sheila Darcy, Chick Collins, Marie Burton, Harriette Haddon. After a wealthy importer is murdered by a gang smuggling immigrant workers into San Francisco, an Asian federal agent is sent to crack the case. Meanwhile, the importer's daughter (Wong) strikes out on her own, determined to avenge her father's death. Directed by Robert Florey, an avant-garde auteur cum B-movie director, DAUGHTER OF SHANGHAI is a rarity among Hollywood productions of the day—an Asian-themed film with Asian-American actors in the lead roles. Committed to appearing only in films with positive portrayals of Chinese characters, Wong moves beyond the Dragon Lady role, instead adopting the persona of a classic Hollywood heroine: she's courageous, determined, and even gets the guy—played by her long-time friend, Philip Ahn. Anna May Wong played the role of Lan Ying Lin, who seeks her father's murderer.
"Sexy Beijing's" Look at Anna May Wong

Although Anna was fascinated by the land of her forebears, even meeting with her father's first wife and son, she realized she was far too westernized to remain long.

Being an emancipated woman in Chinese society was frowned upon, and she met with disapproval.

She bought a great many Chinese costumes which she was subsequently to use on stage and screen. During World War II, she was to auction them off to aid Chinese War Relief.

She wrote of her experiences in China in a series of articles published by the New York Herald Tribune in 1937.
Hollywood Party. MGM short subject 1937. With Clark Gable, Elissa Landi, Joan Bennett, Anna May Wong, Joe E. Brown, Freddie Bartholomew, Leon Errol, Joe Morrison, Betty Rhodes, Clark Gable, Joan Bennett, Elissa Landi, Charley Chase, Leon Janney. Anna May Wong and other celebrities attend a technicolored party.
Dangerous to Know. Paramount 1938. Directed by Robert Florey. Producer: Edward T. Lowe. Screenwriters: William Lipman, Horace McCoy. Based on the play On the Spot by Edgar Wallace. Cinematographers: Karl Struss, Charles Schoenbaum. Editor: Arthur Schmidt. With Anna May Wong, Akim Tamiroff, Gail Patrick, Lloyd Nolan, Harvey Stephens Anthony Quinn, Roscoe Karns, Porter Hall, Barlowe Borland, Hugh Sothern, Hedda Hopper, Edward Pawley, Garry Owen, Robert Brister, Stanley Blystone, Pierre Watkin, Edward Marr, Harry Worth, Donald Brian, Ellen Drew, Rita La Roy, Harvey Clark, Jack Knoche, Margaret Randall, Rudolph Myset, Gino Corrado, Andre Marsaudon, Perry Ivins, Grace Benham, Wade Boteler, Ruth Rogers, John Hart, David Newell, Frank Melton, Ivan Miller, Larry Steers, Lynn Bailey, Sheila Darcy, Cyril Ring, Blanca Vischer, Suzanne Ridgeway, Carol Parker, Joyce Mathews, Estelle Etterre, Harry Myers. Anna May Wong as Madame Lan Ying, mistress to Tamiroff character. In her second film with Florey, Wong plays Lan Ying, the "hostess" (read: mistress) of the notorious Stephen Recka (Akim Tamiroff), a powerful Los Angeles gangster who aims to control City Hall by using corrupt politicians. Recka longs to be accepted by high society and eventually discards Lan Ying in favor of a pretty young socialite. In an emotionally wrenching scene, Lan Ying enacts the perfect revenge. The film was based on the play On the Spot, in which Wong made her American stage debut in 1930.
When Were You Born? Warner Bros. 1938. Directed by William McGann, with Anna May Wong, Margaret Lindsay, Lola Lane, Anthony Averill, Charles Wilson, Jeffrey Lynn, Eric Stanley, James Stephenson, Leonard Mudie, Olin Howland, Maurice Cass, Jack Moore, Frank Jaquet, John Ridgely, Carole Landis, Peggy Moran, Edwin Stanley, Sidney Bracey, Tetzu Komai, Lottie Williams. Anna May Wong as Mary Lee Ling, an astrologist.
King of Chinatown. Paramount 1939. Directed by Nick Grinde With Anna May Wong, Akim Tamiroff, J. Carrol Naish, Sidney Toler, Anthony Quinn, Philip Ahn, Roscoe Karns, Richard Denning, Bernadene Hayes, Ray Mayer, Archie Twitchell, Chester Gan, George Anderson, George Magrill, Edward Marr, Charles B. Wood, Charles Trowbridge, Robert Homans, Lily King, Pierre Watkin, Wong Chung, Alexander Pollard, Guy Usher, Pat West, Sam Ash, Larry McGrath, Charles Lee, Jimmy Vaughn, Ivan Miller, Ben Taggart, Grace Lem, David Dong, Gloria Williams, Luana Walters, Marie Burton, Judith King, Dolores Casey, Ethel Clayton, Dorothy White, Helaine Moler, Norah Gale, Gwen Kenyon, Joyce Mathews, Harriette Haddon, Florence Wix, Sheila Darcy, Dorothy Dayton, Paula de Cardo. Anna May Wong as Mary Ling, a doctor.
Island of Lost Men. Paramount 1939. Directed by Kurt Newmann. With Anna May Wong, Anthony Quinn, J. Carrol Naish, Eric Blore, Broderick Crawford, Ernest Truex, Rudolph Forster, William Haade, Richard Loo, Ralph Suncuya, Torben Meyer, Lai Chand Mehra, Rupert Andez, Vivian Oakland, George Kirby, Rafael Storm, George Melford, Ethel May Halls, Ruth Rickaby, Jack Perry, Philip Ahn, Philson Ahn, C. L. Sherwood, Mitchell Ingraham, Bruce Mitchell. Anna May Wong as Kim Ling, daughter of a general.
| | |
| --- | --- |
| | |
| Anna May Wong | |
Chinese Garden Festival. Republic short subject, 1940. One of the "Meet The Stars" series with Rosalind Russell, William Bakewell, Dorothy Lamour, Rita Hayworth, Anna May Wong, Cesar Romero, Walter Pidgeon, Rose Hobart, Patricia Morison, Gertrude Niesen, Kay Aldridge, Mary Beth Hughes, Charles "Buddy" Rogers, Mary Pickford, Jane Withers, Beulah Bondi, Vera Vague, Mary Martin, King Kennedy, Cliff Nazarro, Mary Howard, Gloria and Barbara Brewster. Jane Hamilton, Susan Peters, Ona Munson, Georgia Carroll, Mary Healy. Anna May Wong and other celebrities attend a party.
Ellery Queen's Penthouse Mystery. Columbia 1941. Directed by James Hogan. With Ralph Bellamy, Margaret Lindsay, Anna May Wong, Charley Grapewin, James Burke, Eduardo Cianelli, Frank Albertson, Ann Doran, Noel Madison, Charles Lane, Russell Hicks, Tom Dugan, Manton Moreland, Theodor Von Eltz, Richard Loo, Chester Gan, Edward Earle, George McKay, Jimmy Aubrey. Anna May Wong as Lois King, a diplomat.
Bombs Over Burma. PRC 1942. Directed by Josseph H. Lewis With Anna May Wong, Noel Madison, Leslie Denison, Nedrick Young, Dan Seymour, Frank Lackteen, Judith Gibson, Dennis Moore, Connie Leon, Richard Loo, Hayward Soo Hoo, Paul Fung. Anna May Wong as Lin Ying, a schoolteacher.
The Lady From Chungking. PRC 1942. Directed by William Nigh, With Anna May Wong, Harold Huber, Mae Clarke, Rick Vallin, Paul Bryar, Ted Hecht, Ludwig Donath, Archie Got, James Leong, Walter Soo Hoo Anna May Wong as Kwan Mei, a guerilla leader.
Impact. United Artists 1949. Directed by Arthur Lubin. With Brian Donlevy, Ella Raines, Charles Coburn, Helen Walker, Anna May Wong, Mae Marsh, Tony Barrett, William Wright, Robert Warwick, Philip Ahn, Clarence Kolb, Erskine Sanford, Linda Johnson. Anna May Wong as Su Lin, a maid.
Portrait In Black. Universal 1960. Directed by Michael Gordon With Lana Turner, Anthony Quinn, Sandra Dee, John Saxon, Richard Basehart, Lloyd Noland, Ray Walston, Virginia Grey, Anna May Wong, Dennis Kohler, Paul Birch, John Wengraf, Richard Norris, James Nolan, Robert Lieb, John McNamara, Charles Thompson, George Womack, Henry Quan, Elizabeth Chan, Harold Goodwin, Jack Bryan. Anna May Wong as Tani, a housekeeper.
T R I V I A
Criticism from Chinese and Americans
Throughout her life Anna May battled racism and stereotyping, while at the same time being widely criticized by Chinese Nationalists in both America and China for taking roles they felt perpetuated a negative image of Chinese people. However, her determination, elegance, beauty and sophistication brought many positive elements to her performances, and she became the embodiment of Asian womanhood for a generation of American and European audiences. Anna May appeared in over 50 films.
First Film:
"The Red Lantern" (1919), starring Alla Nazimova. While the film was being shot on the streets of Chinatown in Los Angeles, Anna May was cast as an extra. She played a lantern bearer.
First Screen Credit:
"Bits of Life" (1921), in which she played Lon Chaney, Sr.'s wife, Toy Sing.
First Significant Role:
Cast as Lotus Flower, the lead roll in "The Toll of the Sea" (1922), a film based on Puccini's opera "Madame Butterfly". It was the first feature to be filmed in Technicolor's two-color subtractive process.
Breakthrough Part:
Cast by Douglas Fairbanks, Sr., as a Mongol slave in his lavish production "The Thief of Bagdad" (1924). Directed by Raoul Walsh for United Artists, this film cost $2 million and took five weeks to shoot. The impressive sets, which included towering minarets and Moorish buildings, were constructed on a six-and-a-half acre location at the Pickford-Fairbanks studio in Hollywood. Although Anna May Wong had only a supporting role, her brief appearances on screen caught the attention of audiences and critics alike.
First Talkie:
"The Flame of Love" a.k.a. "The Road to Dishonour" (1930), produced by British International Pictures. Anna May spoke the dialog in the French, German and English versions of the film.
Film Highlight:
In 1932 Anna May Wong starred with Marlene Dietrich in "Shanghai Express". This film, directed by Josef von Sternberg, was nominated for Academy Awards for "Best Picture" and "Best Director", and won the Oscar for "Best Cinematography".
Major Disappointment:
After testing for the role of O-Lan, Paul Muni's wife in the film "The Good Earth" (1937), and then being considered for the smaller role of Lotus, his concubine in the film, Anna May lost out to Luise Rainer and Tilly Losch respectively. (It's interesting to note that both Rainer and Losch were born in Vienna, Austria, and were not Asian.) The film went on to be nominated for five Academy Awards, and Luise Rainer won the 'Best Actress" Oscar for her performance.
Best Films:
"The Toll of the Sea" (1922); "Thief of Bagdad" (1924); "Peter Pan" (1924); "Piccadilly" (1929); "Shanghai Express" (1932).
Love Scenes
Because love scenes between Oriental and Caucasian actors were not permitted on U.S. screens at the time, Anna May was limited to playing supporting characters during the 1920s while the lead parts often went to a Caucasian actress in Oriental makeup.
Theater
She also appeared on the London stage with Laurence Olivier in "The Circle of Chalk", and in Vienna in the play "Springtime". In 1932, appeared on Broadway in the play "On the Spot", which ran for 167 performances.
Too "Chinese" for White Executives
In 1932, Anna May did a test for the lead role in a Metro-Goldwyn-Mayer picture "The Son-Daughter". She heard through the grapevine that she did not get the role because M-G-M considered her "too Chinese to play a Chinese". Helen Hayes was eventually given the part.
The Good Earth
Irving Thalberg's assistant, Albert Lewin, was put in charge of casting the film version of Pearl S. Buck's Pulitzer Prize-winning novel "The Good Earth" (1937). After testing Anna May and other Chinese actors, he argued that despite their ethnicity they did not fit his conception of what Chinese people looked like.
Beauty
In 1937, Anna May Wong appeared on the cover of the second issue of Look magazine where she was identified as the "World's Most Beautiful Chinese Girl", even though she was shown brandishing a dagger.
Chinese Cookbook
In 1942, Anna May wrote the preface to one of the first Chinese cookbooks printed in the United States. Compiled by Mabel Stegner and Fred Wing, the cookbook "New Chinese Recipes" was sold to raise money for United China Relief.
Television Show
In 1951 Anna May starred as a Chinese detective in the Dumont Network's television series "The Gallery of Madame Liu Tsong". The weekly half-hour show debuted on August 27th, and ran until November 21st, 1951.
R.I.P.
Anna May smoked, often abused alcohol and suffered deep bouts of depression. After a long battle with the liver disease, Laennec's cirrhosis, Anna May died in her home at the age of 56 while taking a nap.
For more inco, click HERE
If you have any questions regarding the content, please contact Asian American Artistry
site design by Asian American Artistry
Copyright © 1996-2003 - Asian American Artistry - All Rights Reserved.